24/7 Roadside Assistance
(412) 469-9380
 Since 1976, C&D Towing & Recovery has offered award-winning towing and roadside assistance in the McKeesport area. With a large fleet, we are are able to offer towing services to any vehicle from motorcycles to RVs.
Contact Us
Learn More
McKeesport's Leader in Towing, Roadside Assistance, & Recovery
Reliability, prompt response time, and friendly service is why after more than four decades our community still calls on us in their time of need. We realize that having to get your vehicle towed, battery replaced, or flat tire replaced may be stressful but we will do our best to provide you with professional and prompt services that get you safely on your way.
We now have two locations from which we operate, this helps us get to those in need in less time.
For towing or roadside assistance in the McKeesport area call us at 412-469-9380.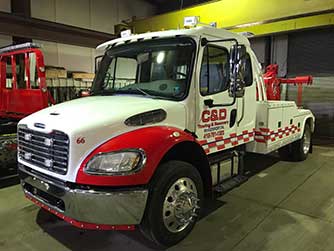 Towing Services
Our experienced drivers offer a quick response time and friendly service in your time of need. Our fleet is able to tow any vehicle type from Rvs to motorcycles. Call C&D Towing & Recovery to request a tow at 412-469-9380, today.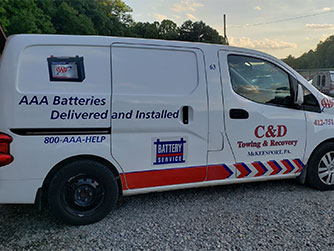 Roadside Assistance
Emergency roadside assistance is not something that anyone wants, but we are here 24/7, when you need it. Our award-winning team offers AAA battery delivery and installation, spare tire replacement, emergency fuel delivery, and more.    
Recovery Services
We are also able to offer valuable services to the community such as accident recovery and towing, removing unauthorized vehicles from private property, as well as towing for municipalities. Call us at 412-469-9380, to learn more.
quick and reliable!
Anytime we have needed them whether personal or business. They have been quick and reliable!
Above and beyond
Left work the other day to find my car wouldn't start. Colleague attempted to "jump" the battery. No luck. Contacted AAA. They said C&D would be there within an hour. Chuck from C&D called to tell me he was only a few minutes away and would be to my location ASAP. Turns out Chuck was successful at "jumping" the battery and my car did not need to be towed! Since he operates a tow truck, he did not have a battery on hand but called to inquire about the cost for AAA to come to my house to install a new battery. Above and beyond. Great service. Nice guy. Very personable. Thanks, C&D and Chuck! Lifesavers!
I highly recommend C&D Towing to everyone
The best towing company out there. So grateful for their quick response time when I blew out my tire in the middle of the night on a Sunday during the holidays. I was crying when the two guys, Scott and John got there. They were so patient and funny with me and instantly cheered me up. they made the whole process so easy. I highly recommend C&D to everyone.
family-owned-and-operated which I like
They just towed a couple of heavy-duty trucks of mine now that they have that big Wrecker they were slightly less money than Landers and the driver was top-notch courteous and backed her up into my spots and it only took him one time very professional would recommend C&D for any of your Towing needs. Also, family-owned-and-operated which I like.
Totally satisfied with C&D Towing
AAA dispatched C & D Towing when I had a flat in my driveway. Chris of C & D arrived sooner than expected, took care of my tire, checked the others, and provided efficient and professional service. Totally satisfied with C & D.
Thank you!
I had a brake line break on my car and AAA dispatched C & D Towing to tow my car to my auto mechanic. The driver, Charles, called when he was on his way and arrived nearly a half-hour earlier than originally estimated by the AAA agent! He got my car loaded onto the truck quickly and efficiently, and I was overall really happy with my experience, especially considering I've never had to deal with car trouble like this or need to be towed, it was a quick, easy process that made a not so great situation a lot better! Thank you!